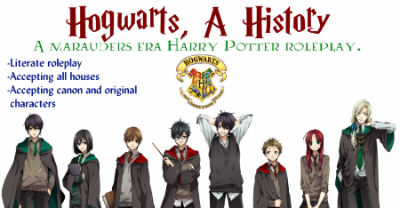 The 1970's mark the first uprising of power for the Dark Lord. While most muggles remain oblivious to everything happening around them, the wizarding world is in the midst of chaos and war. Hogwarts is the safest place in the Wizarding World at the moment, with Albus Dumbledore, charms up, and incantations to prevent an attack on the school. This does not mean the Dark Lord and his followers have no ties here. There are those among the students who believe in the Dark Lord and his teachings. Hogwarts staff does their best to make the school and the grounds as safe as possible, but there is only so much they can do. Even the students at Hogwarts know they will be involved in the war, one way or another.
This board allows for both characters in and out of Hogwarts to join. Which also means that once your character leaves Hogwarts there is still a world built for them. This is a literate roleplay accepting roleplayers of any level whether you've been roleplaying for years or this is your first time. We just ask that you follow the rules and have fun! We have been around for about a year but because of personal issues we have lost several members so we are looking to expand out members list and get a lot of new, active members!
Please check us out and help save this great roleplay from dying!