Hey all,
Totally new to the forum, well... this account anyways, I made one back in the day but... yeah forums and I...
Anyways, I started out making wands last year for DH Part II and it took off with my Quidditch team and more, so I thought why not share things with more communities?
I started out with this one (mine):
And have moved on to things like these:
(Black and White Ebony, 11.5" Dragon Heartstring core)
(Oak, 12.5 Inches, Kelpie Hair Core)
This is one of my favorites,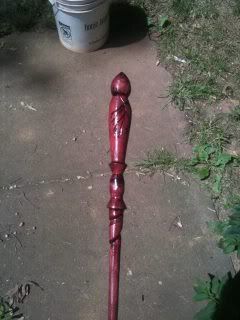 (Purpleheart, 10.5" Unicorn Hair Core)
(Cherry, 12 Inches, Unicorn Hair Core)
Everything is hand carved and I don't use a lathe. Let me know what you think!